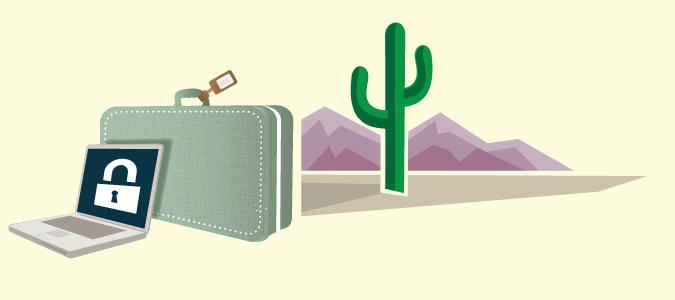 Data is delicate, and depending upon whose hands it falls into, it can spell danger or absolute doom. Pickpocketing and phishing are the two most popular ways people lose their data. There are many creative ways hackers can exploit your vulnerabilities when you're logged in.
Here are tips for protecting your data while traveling:
Don't Use Public Wi-Fi
We're not telling you to avoid public Wi-Fi entirely, but it's better to be safe than sorry. Public Wi-Fi networks are unencrypted and are a treasure trove of data for hackers and cybercriminals.
Use A VPN
Use a VPN when in doubt while traveling. A VPN or Virtual Private Network keeps prying eyes away from your confidential documents and files. We recommend CyberGhost and NordVPN for newbies. VPNs mask your IP address and encrypt your data by funneling them into their servers.
Upload Your Data on the Cloud
It's advisable not to carry your flash drives when traveling overseas since there is a huge chance of it getting lost or stolen. Uploading a copy of your data on the cloud is an easy way of accessing data while traveling. This way, you don't have to worry about your data getting stolen when you're on the move. To maximize security, make sure to encrypt your files before uploading them to the cloud.
Update Your Software
Hackers are pros at targeting vulnerabilities in software and tools lying on your system. Run updates on your OS and antivirus programs regularly. Avoid visiting websites that don't run on HTTPS or don't have their security certificates. Set up two-factor authentication on your social media and email accounts for optimal privacy and security.
Don't Use Public Computers
Don't log into your social media accounts, email accounts, or banking websites if you decide to use public computers. There's no way of telling what's installed on them. Always use HTTPS-protocol websites wherever possible when using your laptop or desktop while traveling. Install the 'HTTPS-everywhere' add-on on your web browser to make sure you avoid visiting websites which aren't encrypted.
Wipe Your Devices
Formatting and wiping your devices before traveling is a sure-fire way of keeping your data protected. Backup your files on a separate HDD and don't keep all your important files on the same device. Store your data on multiple devices and carry backup devices when traveling.
Traveling is a part of life, but sometimes data loss can be unavoidable, occurring when you least expect it. Also, your devices aren't shock-proof and are prone to physical damage due to mishandling, file corruption, and exposure to rain, dirt, and dust.
Data Recovery–For any reason, in case you lose data, can recover with the software's or services.
Damaged flash drives and HDDs are not accessible through the recovery software, and this is where opting for professional data recovery services like Stellar data recovery is useful.
If your devices are simply formatted, corrupted, or you accidentally deleted your files, then with the help of data recovery software you can recover upto 100% data.
Recovering Lost Files with Stellar Data Recovery Services
Stellar Data Recovery has an in-house R&D team and expert engineers with a proven track record of the quickest turnaround times for data recovery in the industry. They employ the latest tools and technologies to ensure recovery of lost files with a success rate of up to 100%.
Here are the advantages of using Stellar Data Recovery Services:
Recover data from different storage media – Professional data recovery experts at Stellar are well equipped to recover data from SD Card, hard drive, SSD, Pen Drive, Flash drive, etc. They can recover data from all kind of make and models.
Recover different file types – Data recovery aren't restricted to any specific file types! They recover data from multiple file types such as .docx, .png, .gif, .tif, .xls, etc.
Class 100 Clean Room Lab – Class 100 Clean Room Lab has a controlled environment that maximizes the chances of data recovery by preventing further damage. It is required to recover data from the physical damaged hard drive.
The following are some of the other reasons why to obtain Stellar Data Recovery service:
Recovering data since 1993
ISO 9001:2015 & 27001:2013 certified
15 Branches across India
100 % Data safety and privacy guaranteed
Free media pick up and drop facility
More than 2 Million Customers
No-Recovery, No-Charge
Protecting Your Data Privacy
According to a 2017 Symantec Report, 25% of internet users accessed a public Wi-Fi without the owner's permission, and 8% of them were able to guess or hack the passwords. This should be a cause for concern as it highlights how easy it is to have your data stolen. Consumers unknowingly put themselves at risk of a data breach when they travel to other places. Using a data recovery program is a smart way to ensure that you can recover lost files.
Whether you're traveling within your own country or abroad, learning about a particular place's data policies and procedures while traveling as an internet user are other ways to keep yourself protected. Read up on cyber security laws and legislation related to the location you're traveling to before your journey. Install tracking software on your devices in case you lose them.
If you're a tourist, you're likely to be targeted, and sometimes there's no way of knowing this. There are always measures you could use to keep your data safe, and the information above will help you with that.